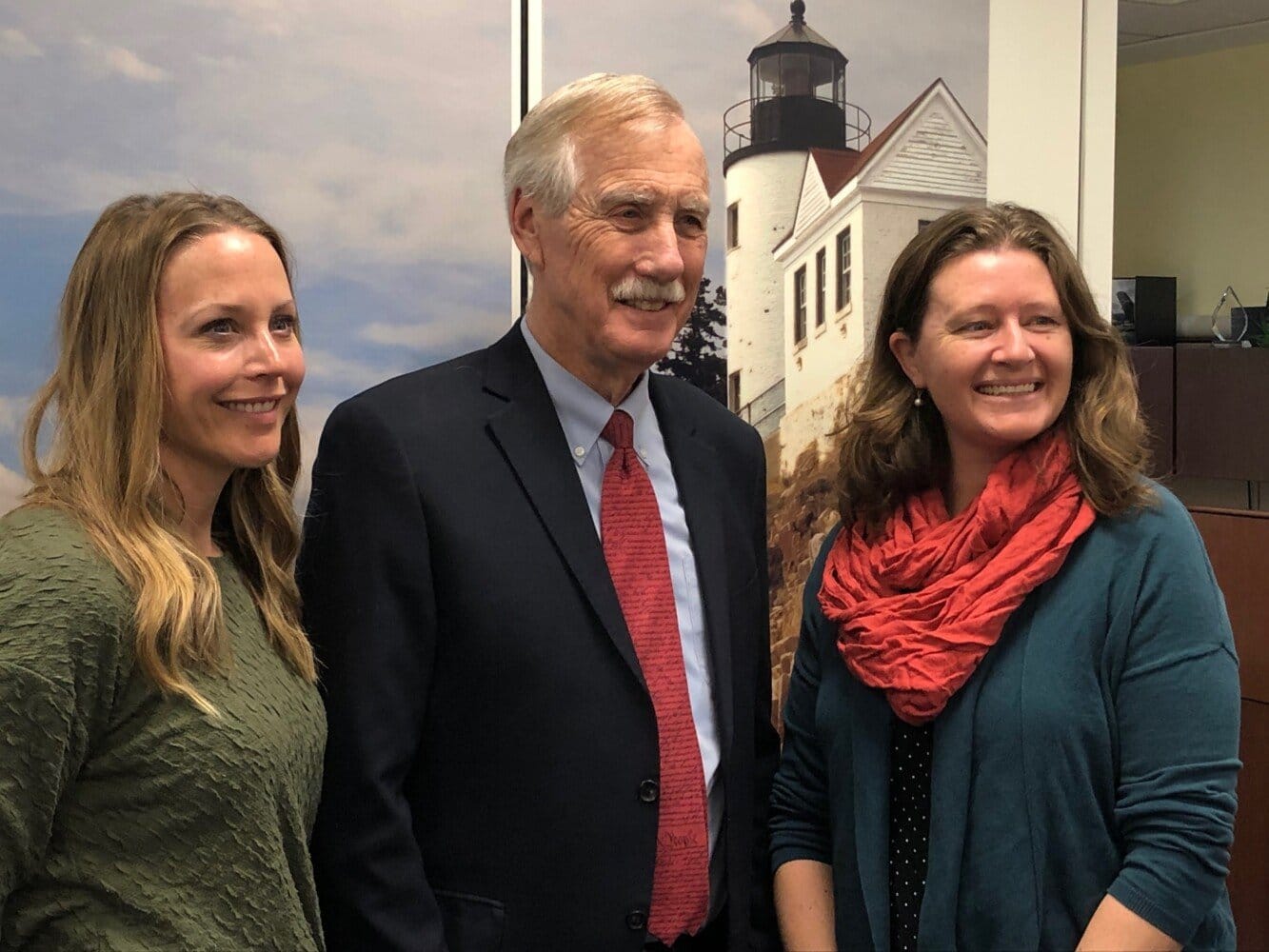 The River Valley Healthy Communities Coalition, a local community health and wellness nonprofit organization, originally got its start in 1997 as a local environmental and recycling program for communities of the river valley region. RVHCC's current objectives are addressing and alleviating substance abuse disorder, food insecurity and older adults' health and wellness, said RVHCC's Executive Director Allie Burke, of Bethel, who's been with the organization for seven years.
Project Director Melissa Harding, of Rumford, joined RVHCC four years ago and she takes the lead on rolling out several food insecurity programs and helps coordinate the River Valley Rising project, which addresses substance abuse prevention in the communities. Funding for RVHCC is generally from federal sources and from private organizations and donations, and the group also relies on volunteers to make programs successful.
How much time do you spend in applying for grants for River Valley Healthy Communities Coalition programs and which grant awards are currently helping to sustain the organization? Time spent applying for grants can vary depending on the goal and objectives that we want to address in the community. RVHCC has been recently awarded funds from the Maine Community Foundation and John T. Gorman grants that allow us to focus on food insecurity and senior isolation in the greater river valley region. These grants take collaboration and partnership to apply for and so they sometimes take longer to write because you are asking for commitment, volunteers and support.
The Drug-Free Community grant, which is a CDC federal funded project that focuses on substance use disorder and prevention, is much more complicated to write. It's a five-year grant, so by the time you have finished writing the proposal it's over 100 pages long with at least 12 community sector members committed to helping the project to be successful. RVHCC has been fortunate to have been awarded two rounds of DFC funding totaling $1,250,000 in federal funding to address local substance use prevention.
What has your experience been like while giving out food boxes in downtown Rumford for seniors recently? Our experience has been inspiring, fulfilling, eye-opening, and hectic. We hand out over 300 boxes of food once a month from the back parking lot of our office space within three hours. It's a super-fast-paced day but we know we are helping to make a difference for our seniors. It's so great to see and make a connection with each senior and to know how they are doing.
Tell us a bit about the kinds of work your organization does with senior residents. RVHCC has several projects that we are doing pre and during COVID with our senior residents: RVHCC was awarded a mini lifelong grant from the Maine Community Foundation to collaborate with Mitzi Sequoia to host the Moving Freely program for seniors. Mitzi just hosted a spring program and we are planning to host another one in the fall.
Prior to COVID we collaborated with the Holy Savior Church to host monthly senior gatherings. We provided guest speakers, activities, and lunch for the seniors. We hope to be able to offer this again once it's safe to do so.
During COVID we started the buddy-to-buddy program to have local volunteers check in with seniors to see if they needed any essential items and to do a check-in.
Besides the seniors food service program subsidized by Good Shepherd Food Bank of Maine, the RVHCC also ran a Farm to Families food distribution program for families in need in the area. What were some results of that program?The results of the Farm to Families program were that RVHCC was able to work with RSU 10, Whites Yardworks, and community volunteers to provide over 8,000 free boxes of food for anyone in the greater River Valley Region.
The RVHCC's River Valley Rising program works with the community to provide substance abuse prevention education for youth and families. What kinds of things are you doing in the community and how does your work benefit people? Prior to COVID, RVR was doing a lot of prevention education in the schools like the Red Ribbon Week, vaping awareness presentations, mental health, and hosting our youth group: the Positive Cougar Club at Dirigo Middle School. RVR also does a lot of community collaboration with the local police department, Rumford Hospital, Larry Labonte Recovery Center, mental health agencies and our faith-based community.
Our work benefits the community when we are working together with our partners to bring awareness and education about the dangers of substance use and the impact it has on our youth and our community. It's that classic motto, "It takes a village" to keep our youth safe and healthy.
How much of a role do volunteers play at RVHCC and what kinds of things are they needed for? How can residents reach you if they wish to help? RVHCC wouldn't exist today without its volunteers. They play an intricate role in helping RVHCC with food distributions, community events, and so much more. We are so thankful for the dedication of our volunteers that we can't thank them enough for their help and support. If folks want to volunteer they can call RVHCC at 207-364-7408 or messenger us on our Facebook page.