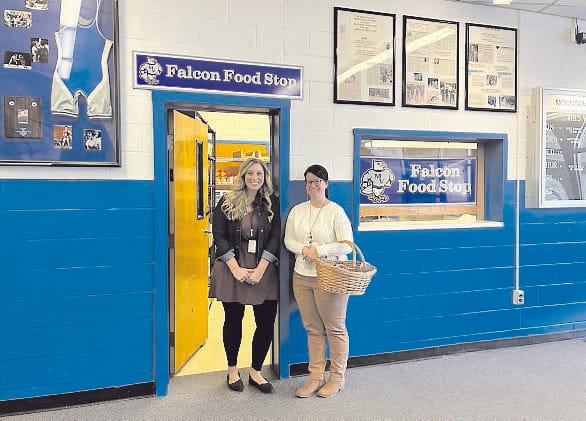 Falcon Food Stop
Kasey Flagg, MVHS Mental Wellness Coordinator, and Serena Flagg, School Nurse, saw the deep needs of homeless and food insecure students when out of school. They established a food and essential pantry for these students to secure much-needed food and personal hygiene products located at the Mountain Valley High School, free of charge.
The Falcon Food Stop continues to have high volumes of students coming in on the two days that they are open. According to Kasey Flagg, the school's mental wellness coordinator, they have families that reach out for food deliveries and in fact, they were squeezing in a delivery the day we spoke with them. Although they wish they could reach more families, students are definitely using the food pantry and for that, they are thankful. They plan to fill bags before the summer break and try to get as many bags to students as we can. We don't plan to be open in the summer so we want to make sure what we do have in there is being given to families and we will start again in the fall.
Recent News
According to Kasey and Serena Flagg, the Falcon Food Stop has a large number of students utilizing the pantry both when we are open and as needed.  She explains that "This has been a positive for us because it is showing the need but also that students are willing to let us know when they are in need. We changed the lock on the door for the space so now it is a code and it makes it more accessible for more staff to assist students. We roughly have 100 bags filled each month with even more students that just come in and grab a juice or snack. Some of those 100 are students that come in each week.